5 day trial only $8.95. No credit card needed to join Click here for more info . Don't want to join just yet? Check out my Free Pictures
"... Man, I have seen many web sites but Jean, dam, she is so hot and makes me so hard... how did she fit both of those cumming cocks in her pussy..." Kentucky Swingers Connection
Free weekly pics and videos by email.
Privacy Statement - This list is only used by me. Your email is never given out to anyone.
Hi, I'm Jean and welcome to my homepage. My hubby Wayne put this page together for me because I'm kind of new to all this web stuff.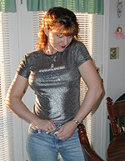 I lead a pretty typical life. I have an office job... in by 9 out by 5. But the boss doesn't know about this. :) Most of my friends and co-workers think I'm a pretty innocent little girl...hehehe... little do they know.
Wayne and I have been into swinging with other guys, girls, and couples for about 6 years now. The first time I ever had sex it was with another girl, and my first boy was at 14. He was older and had a big cock that felt like it was ripping me apart, but yet it felt so good.
One of my fantasies I've had lately is a gangbang. It really turns me on when a guy cums all over me. I want to take on 5 to 10 guys and I want everyone of them to cum on my stomach, face, in my pussy, and in my ass... I want cum all over me.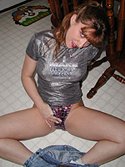 I enjoy it when Wayne takes pictures of me and I love to show off. This site contains high quality pictures I take weekly, and videos from 4 full tapes of sex scenes with me and others over the past few years and it's growing weekly. I plan to keep the site updated regularly with new pics of me and my sex-capades. So, if your ready to see me and what I love to do best come on in...
Jean xoxoxox